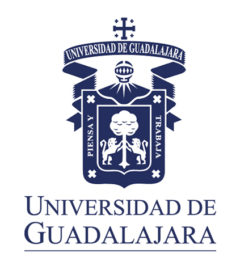 Jean was invited to the University of Guadalajara in Mexico at the University Center for Art, Architecture and Design to give a conference and workshop at the opening of the IV Week of Photography.
Jean fue invitado a la Universidad de Guadalajara en México en el Centro Universitario de Arte, Arquitectura y Diseño para dar una conferencia y un taller a la apertura de la IV Semana de la Fotografía.
If you hear a voice within you say 'you cannot paint,' then by all means paint, and that voice will be silenced.
Si oyes una voz dentro de ti que dice 'no puedes pintar', entonces, por supuesto, pinta, y esa voz quedará silenciada.
Vincent Van Gogh


Conference titled "Photography as a profession"
Monday 10th of September 2018 from 11:30am to 1:00pm.
A reflection and attempt to connect different facets of a photographer's work in order to open new horizons:
– Technical learning
– In search of inspiration
– The craftsman: the art of improvement
– Commercial and artistic scope
– Marketing and Promotion
– Establish an administrative process
– Plan for the future

---
Conferencia titulada "La fotografía como profesión"
Lunes 10 de septiembre 2018 de la 11:30 – 13:00.
Se tratará una reflexión y un intento en conectar diferentes facetas del trabajo de un fotógrafo, afines de abrir nuevos horizontes:
– El aprendizaje técnico
– En búsqueda de inspiración
– El artesano: el arte del perfeccionamiento
– Ámbito comercial y artístico
– Marketing y Promoción
– Establecer un proceso administrativo
– Planear a futuro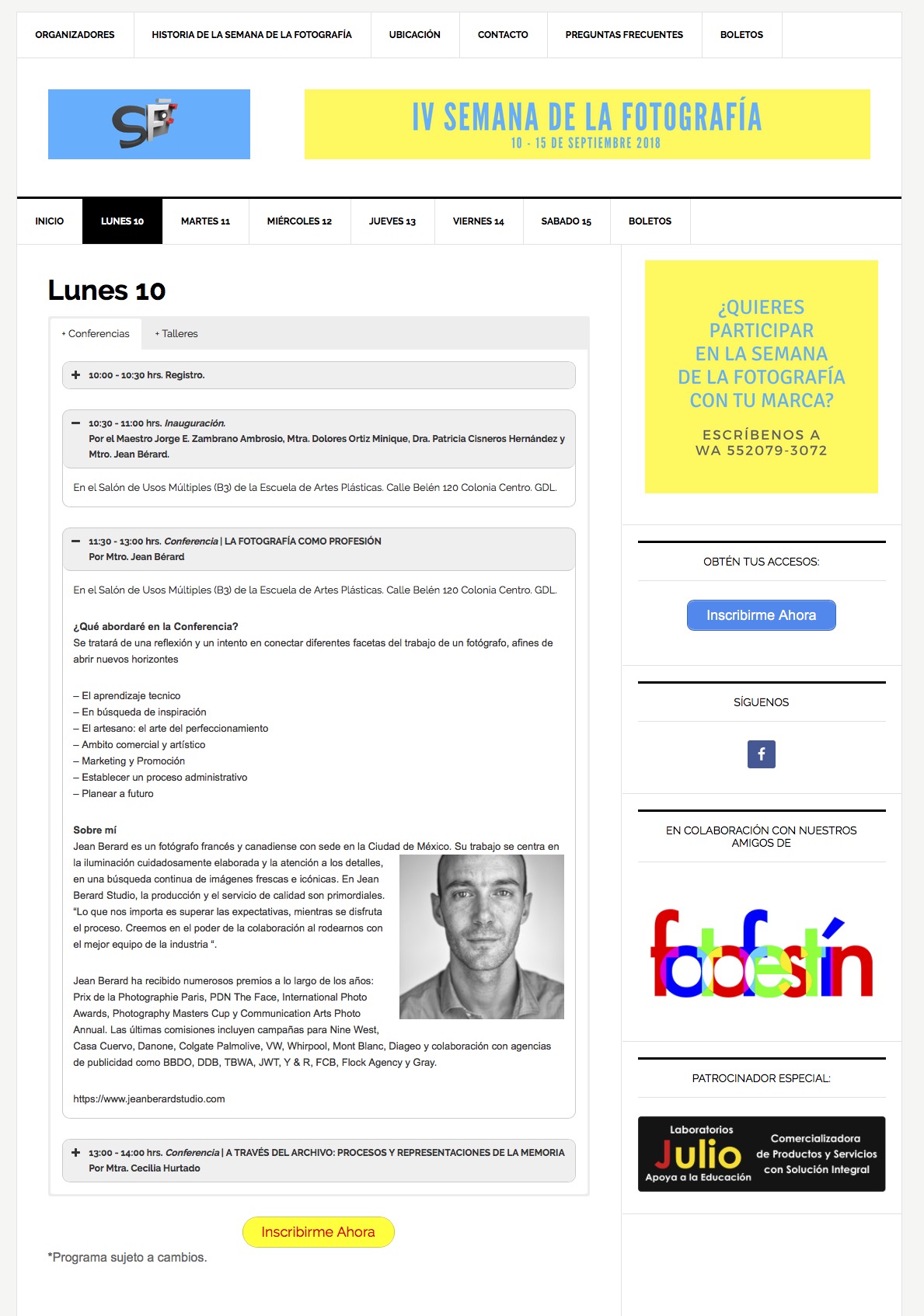 Workshop titled "How to produce a commercial project"
Monday 10th of September 2018 from 4:00pm to 7:00pm.
Jean will detail the production process of a commercial project, from the beginning to the final payment: the different stages, the involved ones and the recommendations to carry out a successful project.
– The brief
– Budget
– The visualization
– Preproduction
– Production Board
– The photo shoot
– Post-production
– Requests for adjustments
– The final delivery
– Administrative considerations
– The payment
---
Taller titulado "Cómo realizar un proyecto comercial"
Lunes 10 de septiembre 2018 de la 16:00 – 19:00.
Jean detallará el proceso de producción de un proyecto comercial, del inicio hasta el pago final: las diferentes etapas, los involucrados y las recomendaciones para realizar un proyecto exitoso.
– El brief
– El presupuesto
– La visualización
– Pre-producción
– Junta de producción
– La sesión fotográfica
– Post-producción
– Peticiones de ajustes
– La entrega final
– Consideraciones administrativas
– El pago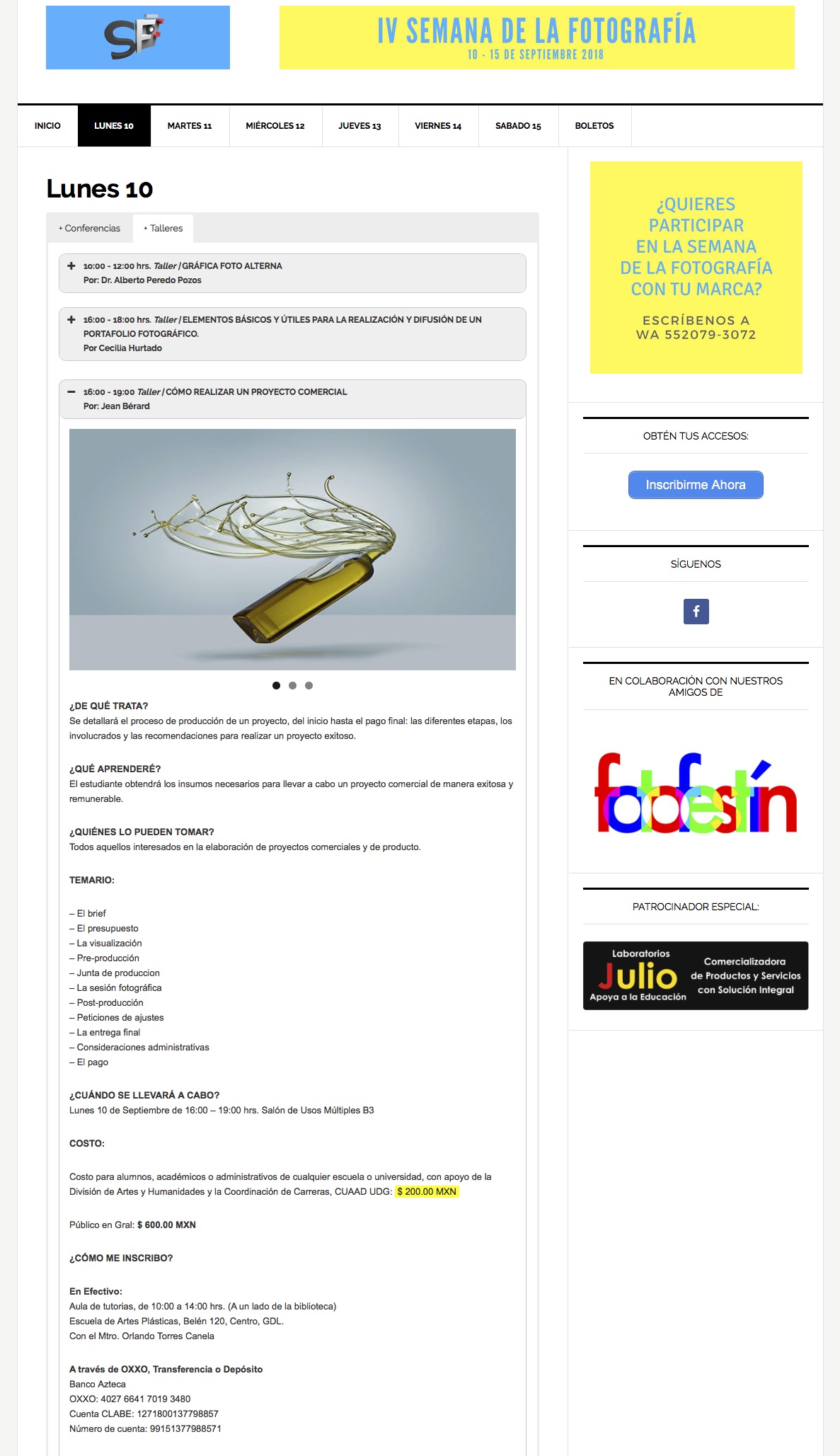 In the news:
http://www.udg.mx/es/noticia/fotografo-no-solo-capta-imagenes-tambien-es-empresario-jean-berard