Jean won Motion / Video Photographer of the Year at the 2019 International Awards (IPA) for his video for the Owen Foundation.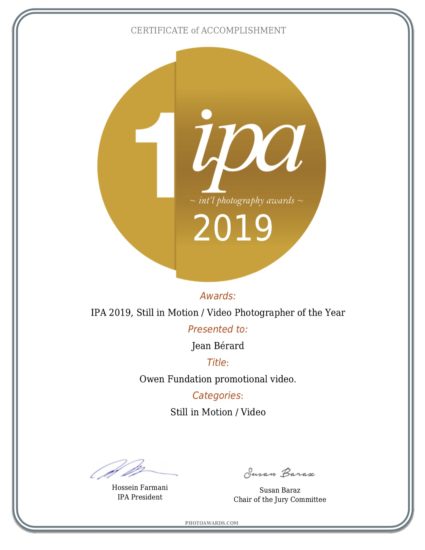 This year more than 15,000 entries were received from 120 countries.
As a category winner, Jean will be traveling to New York in October and participate in various events in relation to this award and is a finalist for the International Photographer of the Year award which will be announced at the Lucie Awards ceremony.
IPA Best of Show Exhibition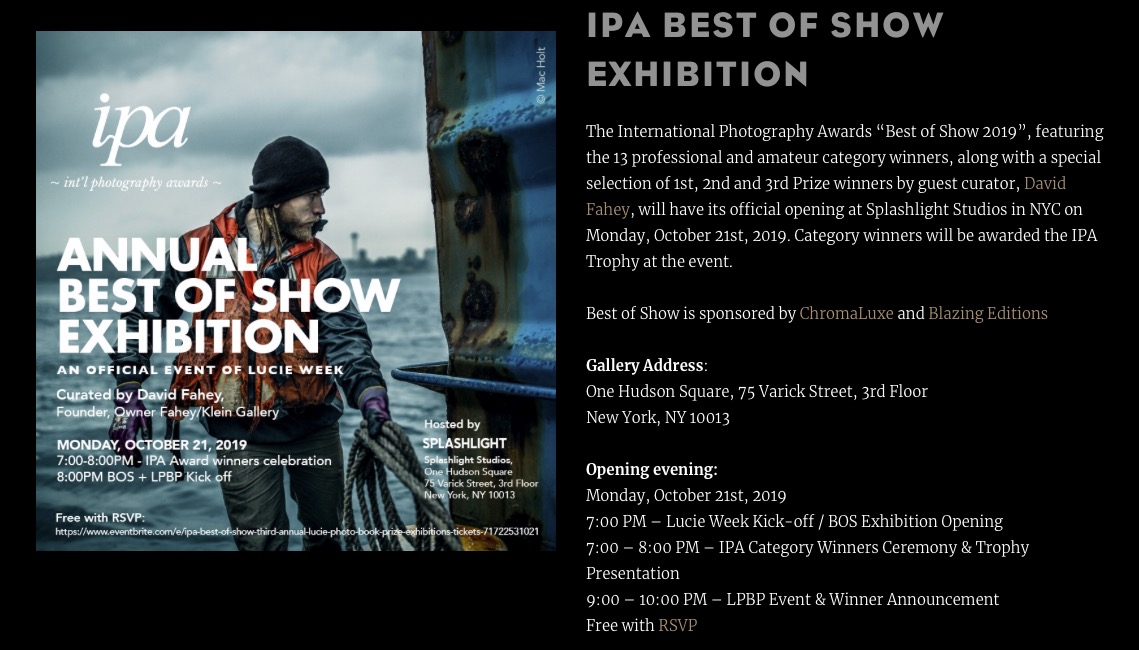 IPA 2019 " Best of Show" Photographers are:
IPA 2019 –Category Winners: Jonathan Knowles, Snezhana Von Büdingen, Evgeny Stetsko, Joey Lawrence, K M Asad, Mustafa Hassona, Sandro Miller, David Knox, Tom Putt, James Ritchie, Kohei Ueno, Jean Bérard, Rebeka Legovic, Maciej Wójcik, Katherine Young, Francesco Ruffoni, Simone Mestroni, Mikkel Hørlyck, Sritam Kumar Sethy, Julia Sh, Alexis Harper, Marina Kazakova, Christiaan van Heijst, Tony Law, Uffe Mulvad.
IPA 2019 – Curated selection: Anne Mette Elmelund, Barbara Zanon, Franklin Neto, Gabriele Cecconi, Gaelen Morse, Hernando Alonso Rivera Cervantes, Ingo Rasp, Iztok Medja, John Chakeres, Jorg Karg, Kaiwen Jiang, Kiliii Yuyan, Kristopher Grunert, Márton Mogyorósy, Magali Chesnel , Mariano Belmar Torrecilla, Mark Parascandola, Marta Bevacqua, Mitsuru Sakurai, Nino Jim Bacalso, Norman McCloskey, Rasmus Flindt Pedersen, Robert C Newman, Robert Yager, Timothy Duffy, Todd Antony, Xueying Chang.
IPA regularly exhibits the works of its annual competition winners and the curated Best of Show selection in venues around the world which is an excellent opportunity for artists who are included in these exhibitions to have their work viewed by a global audience, and to build their CV/Resume.
17th Annual Lucie Awards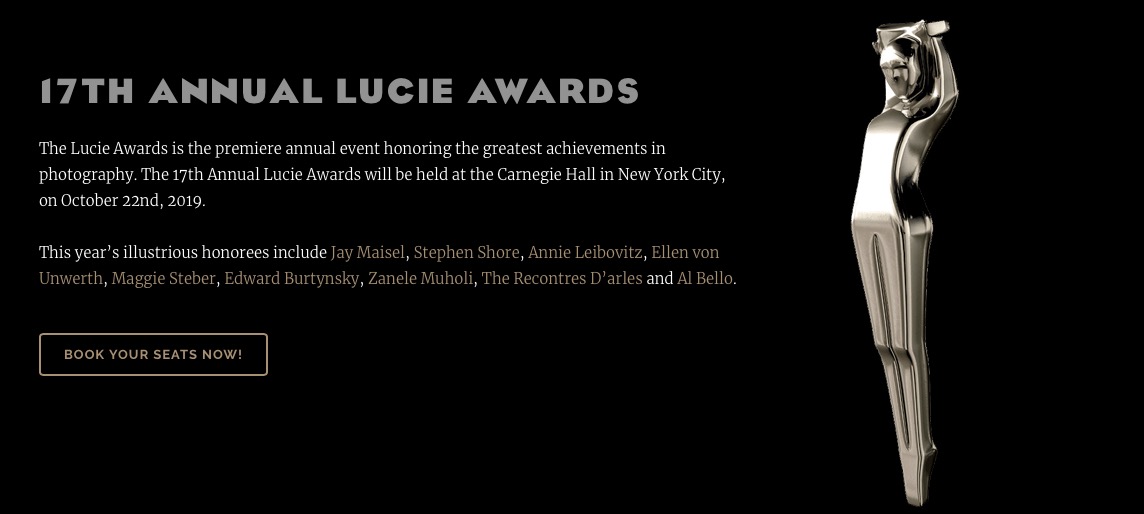 The Lucie Awards is the premiere annual event honoring the greatest achievements in photography and is considered the Oscar of photography. The photography community from around the globe pays tribute to the most outstanding people in the field. Each year, the Lucie Advisory Board nominates deserving individuals across a variety of categories. Once these nominations have been received, an honoree in each category is selected.
The honorees are presented with the Lucie statue during a spectacular evening at the Lucie Awards gala ceremony in New York.
2019 honorees include:
Jay Maisel (lifetime achievement)
Stephen Shore (achievement in fine art)
Annie Leibovitz (achievement in portraiture)
Maggie Steber (achievement in photojournalism)
Edward Burtynsky (achievement in documentary)
Ellen von Unwerth (achievement in fashion)
Zanele Muholi (humanitarian award)
The Rencontres d'Arles (spotlight award)
Al Bello (achievement in sports)
Tyler Hicks (impact award)
The International Photography Awards (IPA) competition, a sister-effort of Lucie Foundation, announces its finalists in advance of the Lucie Awards. They are selected by an international jury panel of photography professionals. Two of the finalists will be named Photographer of the Year and Discovery of the Year, from the Professional and Non-Professional / Student categories respectively, at the Lucie Awards ceremony on October 22, 2019.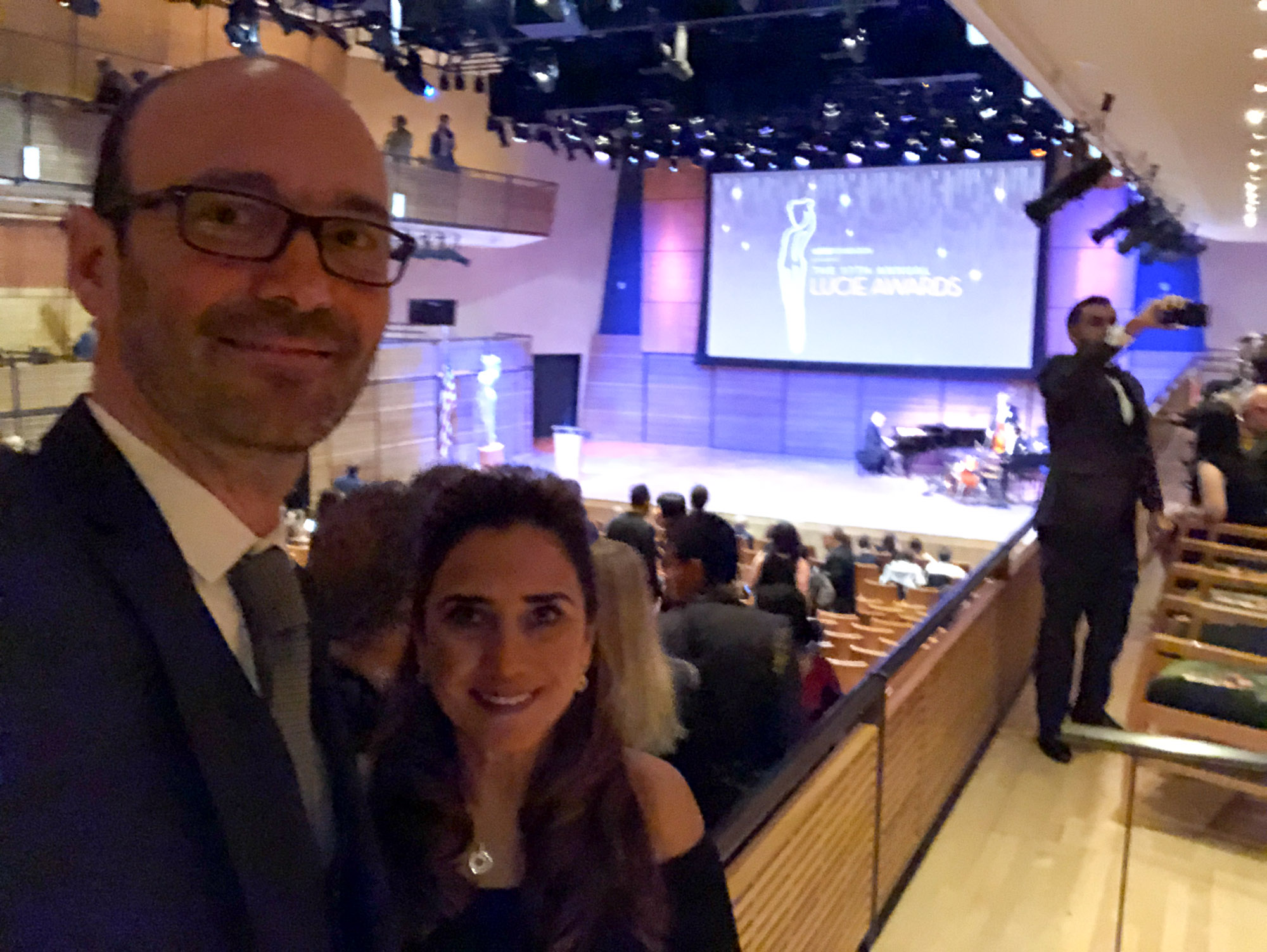 The Owen Foundation video
We produced a video and various photos for The Owen Foundation in Mexico City., which has developed a program of "Rehabilitation without Pain" using assistance dogs in physical rehabilitation for children and young people with severe multiple disabilities (SMD).
First approaching this project, I remembered a quote from photographer Diane Arbus in the preface of the book Diane Arbus: An Aperture Monograph:
Most people go through life dreading they'll have a traumatic experience. Freaks were born with their trauma. They've already passed their test in life. They're aristocrats.
Reading Diane's text, it became clear that presenting those children on the point of view of pity was not the correct way to help them. Witnessing the profound and delicate interaction in between the dogs and the children was an enlightening experience, going from pity to admiration. In a way, as much as those children needs our help, we need them so we can learn again to value the smallest moment, the fact we can walk, interact and speak.
Please make a difference and donate at owen.care.
Direction: Jean Bérard
Photography: Jean Bérard
Producer: Mary Palma
First assistant: Eduardo Solis
Second assistant: Ana Karen Garcia Fajardo
Edition: Armond Cohen
Writing: Hernan Bravo Varela / Teresa Zaga Cohen
Translation: Blair McDougall
Music: "Delicate" by Damien Rice, licensed courtesy of Warner Music UK LTD